Denis Le Prevost
Autobiography - Denis Le Prevost (acoustic guitar/vocals)
I started out in the late sixties, early seventies playing in made for the night bands with the likes of Rick Sealley, Barry Harris, Fred Hewlett and Gary Willcocks (Tangerine Wheel). In 1981 I was asked by Alan Mahy, who at the time was a member of Village Blue, the resident band at La Villette Hotel, to join the band as Steve Bougourd (resident lothario!) was leaving for pastures new at the Old Government House Hotel.
After a couple of dodgy auditions in front of Cossie & Marion Power, they asked me to join out of desperation and lack of anybody else showing up! Following a nerve wracking first night I remained in the band for the duration, which was about 14 years. During that time Martin Attwooll, the bass player left to join Steve at the OGH (Three's Company), the third player being Mario Cavagnetto on drums.
Alan decided he'd had enough of playing Thursday, Friday and Saturdays and wanted a life of his own to join his lovely wife Judy on a night out now and again (or so he told me). Geoff Davidson came in on bass and when Alan left, Colin Hewlett joined on drums. We carried on like that for a few years until Colin went off to join Roadhouse (whose members were Alan Palzeaird, Ken B Johnson, Charlie Gardner and sometimes on bass, Glenn Holmes) ... (of which, more later!) When La Villette dispensed of live music Village Blue moved to the Carlton Hotel as the resident band working for the manager Mark Frost, who, like Cossie & Marion treated us very decently.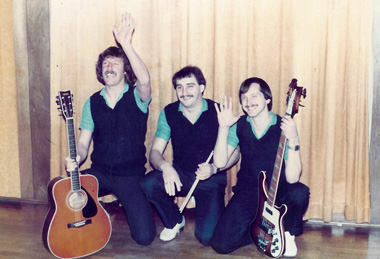 Denis, Alan Mahy and Martin as "Village Blue" at La Villette Hotel circa 1981
We recruited Johnny Inder on drums and vocals and around that time my wife Sheena joined singing harmonies. After a long stint Johnny decided to up sticks and leave whereupon Colin rejoined and stayed for the duration Sheena and I also played as a duo starting ot at Taylors Bar as "Kinky Sex" and we are still performing to this day, mostly at the Doghouse & St Pierre Park Hotel.
I joined City Limits after Village Blue disbanded.
Influences: Buddy Holly, The Beatles, Paul Simon, The Eagles, James Taylor and Duran (I can only take 'em once)
See you around!
Denzil