Martin Attwooll
Biography - Martin Attwooll (bass)
Aged seventeen, I was going to play drums but I picked up the bass when a reshuffle of my school band saw the bass player move to lead guitar. Self taught, I learned to play by playing along to records and jamming with my school mates.
I first played a live gig at The Blue Lagoon, Sandown, Isle of Wight in 1976 (what a summer!). My first Guernsey gig was as part of a duo called "Park Avenue" with Steve Bougourd playing at Whitewoods Hotel. Steve joined Ivan Roberts at La Villette Hotel, and in 1980 I joined Steve again when Ivan left. We formed "Village Blue" with drummer Alan Mahy and had many good years together.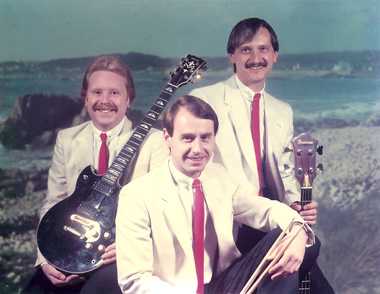 Steve Bougourd, Mario Cavagnetto and Martin as "Three's Company" at "The Old Government Hotel" circa 1985.
When Steve left Village Blue, we managed to persuade a shy guitarist called Denis Le Prevost to join. Again we had a great time as the resident band of La Villette Hotel.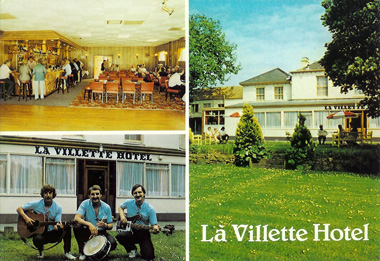 Denis, drummer Alan Mahy and Martin as "Village Blue" at "La Villette Hotel" circa 1981
I left Village Blue in 1984 and joined Steve Bougourd again at the Old Government House Hotel as part of the resident band "Three's Company" with drummer Mario Cavagnetto and occasionally keyboard player Rhona Clarke. We played six nights a week, sometimes good, sometimes soul destroying!
I left music altogether in 1988 when I established a career with the Ambulance Service.
In the late 90s Denis called me up to help out on bass with him and his wife Sheena at the Peninsula Hotel. We called the trio "Out of the Blue".
I joined City Limits in 2001 and am privileged to play with such great musicians. Yes Denis, that does include you!
Best moment so far? the Charity Gig at St James in March 2004. Full brass and string sections. I will never forget playing "Wasted Time" (an Eagles song) and the great reaction from the audience.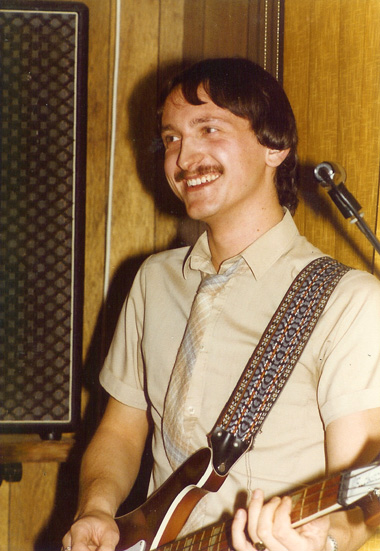 Martin in Village Blue days circa 1982
Influences: Chris Squire (Yes), Jack Bruce (Cream), John Entwhistle (The Who)
Bass Heroes: All the above plus Nathan East, Mark King, Paul McCartney, Flea, Sting
Favourite Bands: Pink Floyd, Genesis, The Beatles, Coldplay, anything with Eric Clapton
Equipment I use: Ibanez BTB1005E 5 string bass, Trace Elliott 300W bass amplification