Tim Millard
Autobiography - Tim Millard (keyboard, vocals)
I am a self-taught musician and started playing piano at the early age of six. In 1971 I took up the guitar and the following year I started learning how to play the drums - in 1992 added jazz piano to my musical skills.
My first performance was in 1966 when I was asked to play piano for demonstration purposes at a local music contest in Jersey as I was too young to enter myself! In 1968 I entered the contest, playing piano and singing, and won!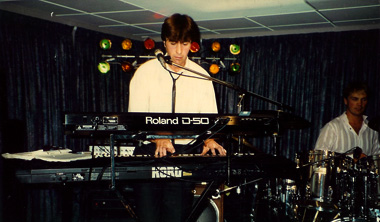 Tim Millard - Circa 1990
First Band:
1971/72 King Midas (I think! The name changed countless times!) I played guitar in this Elizabeth College school band.
First Band public performance:
1972 Talent contest at Delancey Park Hotel, school band, might have been King Midas.
1972/73 Played Drums: with "White Elephant" featuring Daryl Selvidge on guitar.
The all-important First Paid Gig!: 1973/74 Played lead guitar in the band "Bump" at Delancey Park Hotel (rock'n roll and pop)
Bands I have played in:
1971 School Band - lead guitar and vocals - rock
1972 White Elephant - drums - rock
1973 Bump - lead guitar - rock 'n roll, pop
1976 The Gentz - lead guitar - rock 'n roll, pop
1978 Deadringers - lead guitar - punk rock
1978 Track Record - lead guitar - popular rock
1982 Track Record II - lead guitar - rhythm and blues
1984 Vandakan - guitar/keyboards - rock and pop
1986 The Difference - guitar keyboards - own compositions, rock orientated
1987 Vandakan - keyboards - rock and pop
1988 City Limits - keyboards - rock, pop, funk, jazz
Sessions with:
1993 Dukes Men - keyboards - rock 'n roll, pop and jazz
2002 Top Banana - keyboards - soul
Musicians I have performed with in chronological order:-
Paul Ingrouille (rhythm & bass), Nigel Le Cras (bass), Trevor Crittell (drums), Spud Murphy (guitar & drums), Tracey Horman (drums), Daryl Selvidge (guitar), Ada Rowe (drums), Freddie Wilcocks (vocals), Ian Pallot (bass), John Bishop (drums), Tim Bishop (vocals & bass), Trevor Casbolt (guitar & vocals), John (?) (drums - Deadringers), Lloyd Munro (guitar & vocals), Mark Ingrouille (bass), Paul Tongs (keyboard & vocals), Gary Payne (drums), Art Allen (vocals), Dave Foote (drums), Russ Fossey (drums), Lyndon Queripel (harmonica), Shane Dowinton (bass), Pete De Bertrand (bass), John Inder (drums), Graham Le Poidevin (bass), Steve Free (guitar & vocals), George Crossan (bass & vocals), Darius Rowland (drums), Nick Cleveland (keyboard & trumpet), Barry Marley (guitar), Gary Willcocks (drums), Lester Queripel (bass), Chris Le Lacheur (guitar), Darren James (drums), Dennis Le Prevost (acoustic guitar & vocals), Colin Hewlett (drums, Martin Attwooll (bass), Sheena Le Prevost (vocals), Nick Windsor (lead guitar)
Influences:
Beatles, Jimi Hendrix, Eric Clapton, Jimmy Page, Jan Akerman, Eddie Van Halen, Steeley Dan, IT Bites, Elton John, Simply Red, Simple Minds, Dave Grusin, Richard Tee, Oscar Peterson, Art Tatum, McCoy Tyner, Ray Charles, George Shearing, Phineas Newborn Jr., Russ Ferrante, Monty Alexander, Dave McKenna.